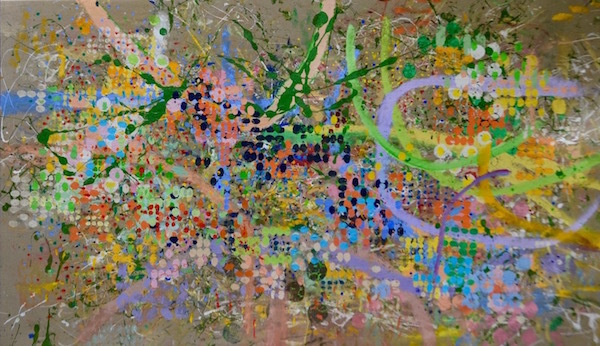 ARTIST BIO
Giles Lyon is known for large-scale, pop surreal paintings: comic book abstractions that explore themes of interconnectivity and imminent ecological collapse. Born in New York City, Lyon studied medical illustration before earning his BFA in painting from Rhode Island School of Design. He was a Core Fellow resident at the Museum of Fine Arts, Houston, where he lived and worked for five years before returning to live in New York City. Lyon's work was included in the seminal Pop Surrealism exhibition at the Aldrich Contemporary Art Museum, Ridgefield, CT; and in the first Greater New York exhibition at MOMA PS1. His work has been exhibited throughout North America and internationally, and featured in numerous publications including Artforum and The New York Times. Lyon currently lives and works in Portland.
ARTIST STATEMENT
My work explores themes of interconnectivity and imminent ecological collapse. Informed by the sensibility of ancient cave painting, in which images seem to emerge out of the working surface itself, many of the paintings begin with a richly textured, watery stained ground on raw canvas—a visually dynamic stand-in for a cave wall. From this atmospheric surface, I tease out intricate imagery that evokes inter-dependence and suggests mass extinction: gnashing teeth, human and animal skulls, and bodies melting into one another. In another layer of the work, the combination of stain and figuration references nature's powerful redemptive energy.
Seen from across the room, the paintings are joyous, celebratory, and abstract, but suggestive of a cosmic scale, and unnaturally saturated with color. The stains echo dynamic natural and unnatural forces that are at once terrifying and beautiful, such as floods and oil spills. Up close, figuration becomes apparent, evoking animalistic impulses, rapacious consumerism, and insatiable hunger.
Another, parallel body of work addresses complex relationships between organic and inorganic forms. Foraged leaves from the forests of the Pacific Northwest are clearly readable yet ghosted imagery; they are used as templates, highlighting the negative space of each leaf. Layers of improvisational gestures laid over the leaf shapes suggest fractured grids, broken patterns, and newly emerging systems.
Reception: Friday, July 15 5–7pm
Venue: Schneider Museum of Art
Gallery Hours: Mon–Sat, 10am–4pm. Hours extended on First Fridays til 8pm.
1250 Siskiyou Blvd | Ashland
Website: gileslyon.com
Residence: Portland, OR